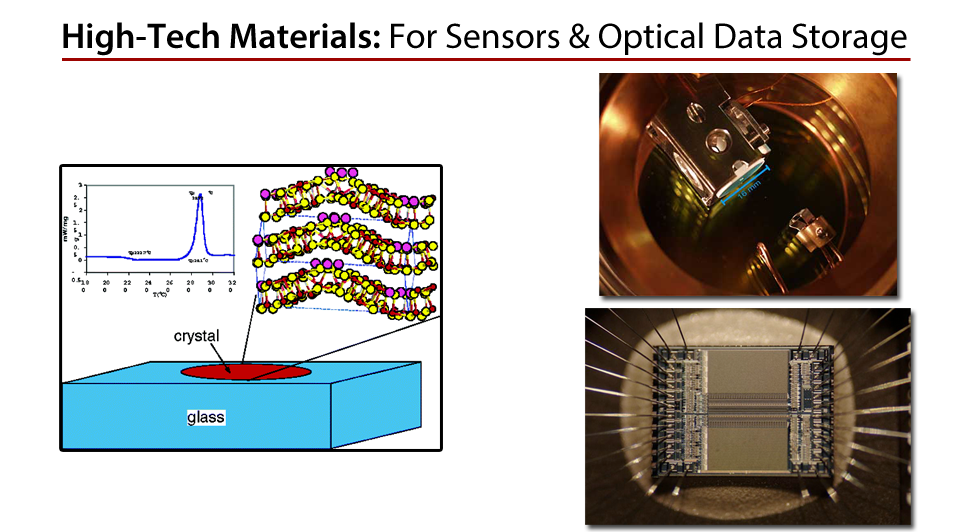 Our work on high-tech materials optical and thermal characterization includes:
Synthesis of inorganic compounds for selected applications
Phase characterization
Thermal transport
Thermal properties
Some applications of the investigated materials are the following:
Narrow band gap semiconductors
Materials for sensors (functional materials for sensors)
Materials suitable for X- and gamma-ray detectors
Smart Glasses
Diamond Like Carbon films (DLC)
Silicides
Phase change materials suitable for Optical data storage etc.
Solid State Batteries
Thermofotovoltaics
List of funded research projects in that topic
EPET II (Project 97ΕΚΒΑΝ2 #30#) - "New Generation Sensors and Devices Radiation for digital real-time imaging. Applications in Airport Security."(1998 - 2001).
European commission funded project - "Pilot study of the poisoning in deactivated catalytic converters" (2001).
European commission funded project -"Study and Characterization of textile fibres by FTIR spectroscopy" (2002)
European Territorial Cooperation Programme "Greece-Serbia" - "Investigation of Functional Materials for Production of Air Gas and Humidity Sensors " (2004-07)
Nationally funded research project - "Photosensitive amorphous materials with applications in switching elements (Raman enhancers) and storage (memory optical recording) information" (2005-08)
"Optimized Thermoelectric Materials and Technology" (2005- 2007)
International Cooperation Programme "Greece-USA" - "Application of Advanced Materials Thermoelectric Technology in the Recovery of Wasted Heat from automobile exhaust systems." (2006-08)
European Territorial Cooperation Programme "Greece-Chech Republic" - "Optimization of materials for use in thermoelectric applications: Study of the post-growth modifications introduced by intercalation" (1999-2000)
European Commission Research Training Networks - "ThermoPhotoVoltaic cell based on GaSb" (2001-2005), http://tpvcell.hmg.inpg.fr/participants.html
European Territorial Cooperation Programme "Greece-Poland" - "Study of Particle Irradiation-Induced Defects in SiC Rectifying Contacts" (2004-2006)
European Territorial Cooperation Programme "Greece-Hungary" "Growth and Characterization of Semiconducting Silicide β-FeSi2 Nanocrystals on Silicon" (2004-2006).