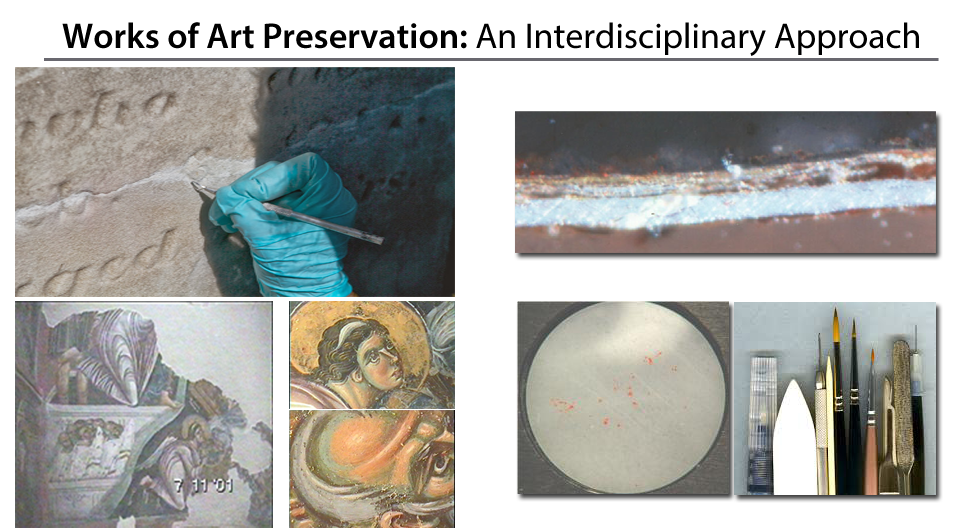 Contribution of materials science to the study and preservation of cultural heritage (paintings, icons, ceramics, etc.)
Art conservation and diagnosis has been improved with the application of modern analytical techniques. These techniques are implemented with the intent to provide answers to questions related to archaeological artefacts and works of art.Researchers accumulate the huge amount of knowledge that has been gathered in related scientific disciplines and apply the advanced techniques that have been developed in the long tradition of the physical sciences.
Multiple techniques can be employed for the analysis of various samples. In our collaborating network we combine spectroscopic techniques (FTIR and Raman) with microscopy techniques (SEM/EDS), thermal analysis techniques (DSC and TG/DTA) and powder diffraction techniques (XRD).
We utilize these methods in order to provide the necessary scientific background information and evidence to assure that the best restoration or preservation approach is applied in each case study.
Our studies include:
Investigation of paintings techniques
Identification of pigments, bindings and other layers
Structural and thermal characterization of materials used in art pieces
List of our funded projects on that topic

"Identification of Byzantine period treasures-icons: Influence of Byzantium on the Bulgarian icon technology" (1998-1999) - European Territorial Cooperation Programme "Greece-Bulgaria".
"Identification of Byzantine icons Balkan region" (1999-2000) - National funded project.
"Identification of late -Byzantine and post- Byzantine wall paintings' materials and technology in Albania: The mutual influence between Greek and Albanian iconographers" (2003-2005) - European Territorial Cooperation Programme "Greece-Albania"
"Physicochemical characterization of Catholic Frescoes in the Monastery of St. John Prodromos near Serres" - Internal University funding.
"Study of Byzantine ceramics in the Elbasan region"(2001-2002) - European Territorial Cooperation Programme "Greece-Albania".
"Identification of Byzantine Period Treasures- Icons and frescos: Influence of Byzantine Technology on Yugoslavian Icons and Frescos" (2002-2003) - European Territorial Cooperation Programme "Greece-Serbia".