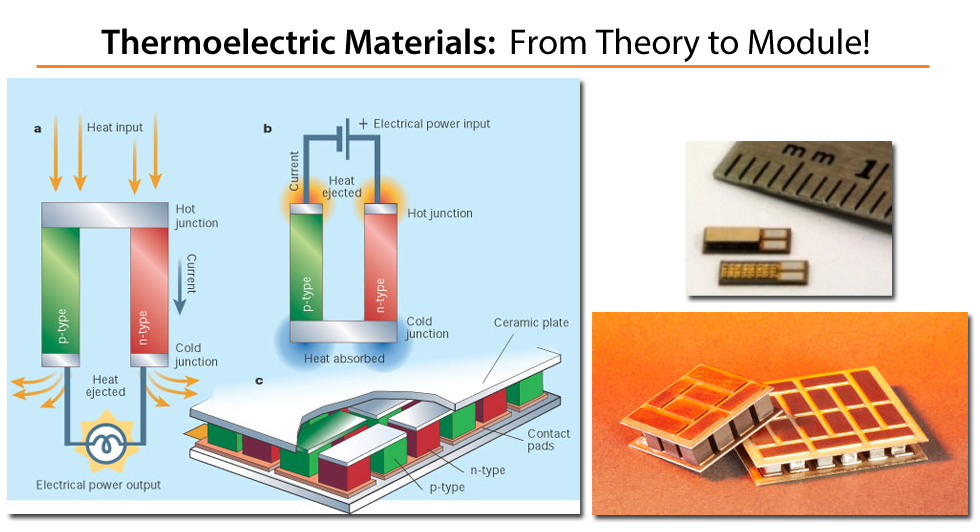 We have a vast (over 30 years) experience in Thermoelectric Materials:
Growing materials with various techniques and especially materials for thermoelectric applications

Studying their properties

Applying them in devices

A brief list of the synthesis techniques that we are using in our group can be found bellow.
Synthesis and Processing
Synthesis from melt using vertical and horizontal furnaces - Bridgmann technique (that is applied in the synthesis of Mg2Si)

Planetary Ball Milling systems (low and high speeds - up to 1200rpm) for mechanical alloying, for the synthesis of thermoelectric materials.

Hot press system (up to 2000C) under controlled atmosphere applied in materials
Also, we are characterizing our thermoelectric materials by different methods, at the beginning as materials:
XRD, and X-Ray tomography.

TEM (including HRTEM) and SEM, including EDS and WDS (Wavelength Dispersive Spectroscopy)

Thermal analysis methods (DTA, DSC, TG).

IR Reflectivity measurements, including micro-IR.
We measure their thermoelectric characteristics:
Conductivity measurements (at 20K-800K).

Hall effect measurements up to 2T (at 20K-800K).

Seebeck coefficient measurements (at 80K-700K).

Thermal Conductivity measurements (up to 1350K) based on laser flash technique.

We are testing our materials in devices:
TE module performance characterization at different loads and various temperatures (currently up to 400C but easily expandable to 600C).

AC impedance measurements at the frequency range 0.1mHz-10MHz.
TE module fabrication, which includes
Fabrication of TE-legs from powders using the Hot Press.

Module design and assembling.

Thermal evaporator for contacts, etc.
List of funded research projects in that topic
High Temperature Nanocomposite Materials for Thermoelectric Power Generation (THERMO-PRESS) - Cyprus Research Promotion Foundation (2009-2013)
Optimized Thermoelectric Nanocomposites (ΝΑΝΟ-THERM) - Cyprus Research Promotion Foundation, PENEK (2009-2012)
International Cooperation Programme "Greece-USA" - "Application of Advanced Materials Thermoelectric Technology in the Recovery of Wasted Heat from automobile exhaust systems." (2006-08)
European Territorial Cooperation Programme "Greece-Chech Republic" - "Optimization of materials for use in thermoelectric applications: Study of the post-growth modifications introduced by intercalation" (1999-2000)
European Commission Research Training Networks - "ThermoPhotoVoltaic cell based on GaSb" (2001-2005), http://tpvcell.hmg.inpg.fr/participants.html
EPET II (Project 97ΕΚΒΑΝ2 #30#) - "New Generation Sensors and Devices Radiation for digital real-time imaging. Applications in Airport Security."(1998 - 2001).
European Commission funded project - "Nanostructured energy-harvesting thermoelectrics based on Mg2Si" (2011-2014)